Treatments for Autism – Effective Therapies and Support for Children with Autism Spectrum Disorder (ASD)
Autism spectrum disorder (ASD), simply called autism, is a neurological condition that affects the way people interact and communicate with one another. Signs and symptoms of autism began appearing in childhood. Parents who find out about their child's autistic condition start worrying about their future. Although there is no cure available, there certainly are different Autism treatments methods that can help people with this condition live a normal life.
Autism Spectrum Disorder Symptoms
The symptoms of autism differ from one person to another and so do the type and severity of these symptoms. That is why autism is also known as autism spectrum disorder.
Although the symptoms of autism can vary, here are certain common signs related to ASD that parents can look out for in their children:
They do not respond to their names
Avoid making eye contact
Get upset over a little disliking of taste or smell
Show little to no interest in playing interactive games
Delayed learning, language, and cognitive skills
Diagnosis of Autism Spectrum Disorder
Diagnosing autism can be a difficult task since there is no specific medical test available to assess the condition. Since the type and severity of symptoms vary too, the process of diagnosis becomes even more challenging.
Parents who observe the basic symptoms mentioned above in their children can consult their doctor for further signs of developmental disabilities. If the doctors confirm the initial symptoms of autism, they might be referred to specialists who will further suggest treatment for the condition.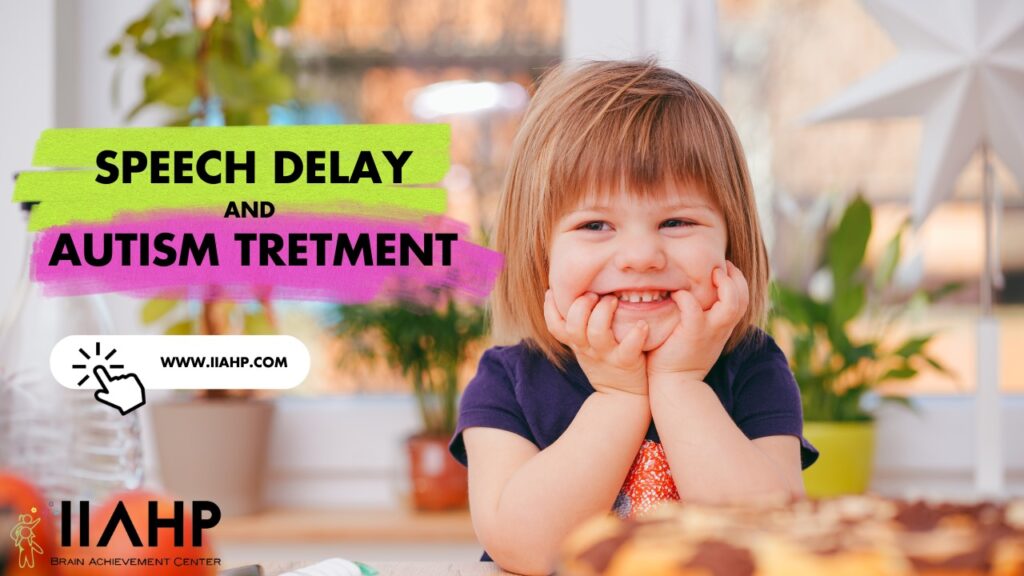 Different Types of Autism Spectrum Disorder Treatment
There are many treatments available for autism that can help children suffering from this condition. Behaviour therapy, speech-language therapy, physical therapy, etc., are some of the popular autism therapies. A combination of these therapies can be very effective in treating autism. Let us check out some of these therapies one by one.
Behavioural therapy
Behavioural therapy is focused on studying the behaviour of the child and understanding the reason behind the behaviour.
It further works on strengthening wanted behaviour and reducing unwanted behaviour through different approaches.
Applied Behaviour Analysis (ABA) is one of the widely accepted behavioural therapies that are effective in the treatment of autism.
Not only does this therapy work on instilling the right behaviour but it also tracks the progress of a child at the same time.
Developmental therapy
Developmental therapy is another effective therapy for autism treatment for children that promotes development skills in children that include learning, communication, and socializing skills.
The developmental social-pragmatic approach under this therapy helps with communication by promoting interaction between developmental therapists and children. There is also speech and language therapy that improves understanding and use of speech and language among autistic children.
Play therapy is another kind of developmental therapy that helps autistic children express themselves and interact with people comfortably.
Thhreatments for Autism
The main focus of occupational therapy is to help children develop the ability to engage in meaningful tasks and maintain them. Not only social and communication but occupational therapy also aims at developing sensory, motor, and cognitive skills among patients.
This therapy helps with interactions with others, emotion regulation, attention span, stamina, responses to stimuli, sensory defensiveness, posture, balance, etc.
With occupational therapy, children can learn how to feed and dress themselves which can help them in their daily life.
Therapies based on Psychology
Psychological therapy can be very helpful for autistic children in tackling mental health problems such as anxiety and depression. Cognitive Behavioural Therapy is a type of psychological treatment that helps the autistic person recognize and address their destructive thoughts.
Therapists can help patients see and understand their problems by exploring their thoughts, feelings, and emotions. This way they can start working on how to get rid of the negative emotions, replacing them with positive ones.
Medicinal treatment
No medicine is available for direct autism spectrum disorder treatment but certain medications can help with related symptoms. The medications can help with aggressive behaviour in autistic children and can further prevent self-harm.
Medicines in addition to proper therapies might be suggested by doctors to help patients perform when it comes to learning and communication.
However, most of the time, therapies are recommended for autistic children, and parents do not need to go for any medication.
IIAHP, Chandigarh, India for Best Autism Treatment
At IIAHP, the best therapists and counsellors are available to help children suffering from autism spectrum disorder (ASD). A non-medical and drug-free approach is taken here to allow autistic children to live a normal and healthy life. Counted among the best autism treatment centres, IIAHP offers a diverse range of autism treatments such as speech and language therapy, music therapy, brain gym activities, behaviour therapy, etc., along with nutrition supplements and diet.
Get more information about autism treatment by contacting IIAHP at +91-7419502101 or info@iiahp.com today.